Valentine's Day.
Whether you love it or loathe it, it has come to be a shorthand for love – an annual celebration of relationships (usually romantic, but nowadays expanded to family and friendships). Florists, bakers, restaurants, movie theatres, travel companies and jewellers all do roaring business in the two weeks leading up to the big day.
Given all the commercial and marketing hullaballoo, it is a day when relationships are supposed to be viewed through rose-coloured glasses. Yet we all know that relationships can be anything but flawless. Domestic violence, one of the major types of Violence Against Women (VAW), is among one of the factors that can turn a fairytale romance into a living nightmare.
As part of our blog series supporting our Valentine Against Violence campaign this February which focuses on using a positive musical Valentine to prevent violence and promote love and positive relationships in line with Valentine's Day, we highlight 5 other anti-VAW/DV campaigns that are running this Valentine's Day season. Some of them turn the sentimentality of the season on its head, others tap into the spending frenzy that accompanies the celebration, and still others use the Valentine's Day concept as a springboard for creative ways of raising awareness.
——————————————————————————————————————————————————–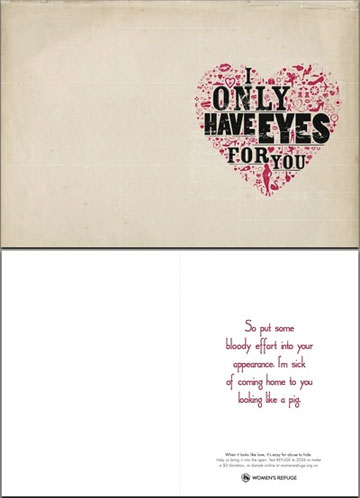 Valentine's Day Campaign 1: Women's Refuge Valentine's Day Card Campaign – New Zealand
For Valentine's Day 2012, a range of cards placed in stores by Women's Refuge turned the sentimentality of Valentine's Day on its head. The cards have a traditional Valentine's Day message on the front, but inside is a glimpse into the domestic violence that many New Zealand women have to live with every day.
The campaign, which was designed by Saatchi & Saatchi New Zealand, aims to help bring the issue into the open. "We designed the campaign to encourage conversations and help those suffering make a change," said Wellington's Saatchi & Saatchi General Manager Livia Esterhazy.
The cards can be viewed on the Women's Refuge website.
Valentine's Day Campaign 2: The Love Shouldn't Hurt This Valentine's Day campaign – Manchester, United Kingdom
"Love Shouldn't Hurt This Valentine's Day" is an annual Valentine's Day campaign by the Greater Manchester Police working with the End the Fear Campaign and the Greater Manchester Public Health Network to encourage victims of domestic violence to come forward.
Councillor Suzanne Richards, Manchester City Council's lead member for women's issues said: "Domestic abuse victims often suffer in silence and at a time of year when relationships are often thrown into the spotlight it's important that people are aware that there is support out there for them."
Last year's campaign saw stars of the TV show Strictly Come Dancing team up with a young girl who suffered from domestic abuse to help promote awareness of the issue and support the initiative.
For the 2011, a survivor who was subjected to years of abuse from her partner and fled Manchester returned to help promote the campaign.
Valentine's Day Campaign 3: The Cabinet of Dreams campaign – London, United Kingdom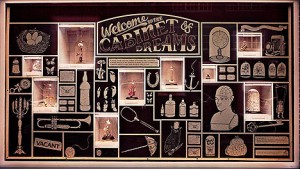 The Cabinet of Dreams campaign in benefit of Women's Aid UK sees London's first virtual charity shop set up to raise money for victims of domestic violence.
The Cabinet of Dreams in a window of a shop in Noel Street, Soho, presents you with nine bell-jars containing miniature works of art. Each one represents a donation, ranging from £2 to £20, that you can make via text. You can also visit the shop online. The object of your affections will then receive the virtual gift and an image of the artwork to their phone.
The shopfront of curios was put together by London ad agency Grey in collaboration with nine artists and groups.
Valentine's Day Campaign 4: The February 14 Movement – Turkey
Turkish women's rights activists say the most meaningful gift on Feb. 14, a day associated with love in many countries around the world, would be an end to violence against women and domestic abuse. Women's rights groups like the İstanbul Feminist Collective seized Valentine's Day as another opportunity to speak out against gender-based violence. In what they call the Feb. 14 Movement, the İstanbul Feminist Collective demonstrated at 12:30 p.m. in front of the Taksim Demirören Shopping Center.
Valentine's Day Campaign 5: V-Day – United States of America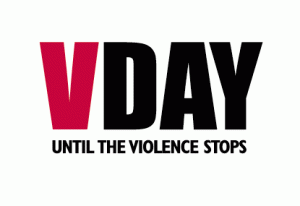 Perhaps the most famous anti-VAW campaign associated with Valentine's Day is Eve Ensler's V-DAY which began on Valentine's Day in 1998. Ensler, a playwright and activist, wrote a play called The Vagina Monologues in 1994. Originally staffed by volunteers, V-Day's first fundraiser was at the Hammerstein Ballroom in New York and that show raised $250,000 in one evening.
Once a year from February to April, Ensler allows groups all over the world to produce a performance of her play, as well as other works created by V-Day and to use the proceeds for local projects and programs that work to end violence toward women and girls. There are currently over 5,800 events annually.
—————————————————————————————————————————————————-
Inspired by this list to start campaigning to stop Violence Against Women beginning this February?
Say NO to violence against women with a love song – Download our musical Valentine – an a cappella cover of Katy Perry's Firework by rising YouTube artiste, Peter Hollens – and share it with your beloved/friends/family.
Firework is available from 1 – 29 February 2012 for download worldwide (just click on the price link to download):
Proceeds from the sales of the song will go towards our Celebrity Male Role Model Pixel Revealcampaign in aid of the USA's National Coalition Against Domestic Violence and Malaysia's Women's Aid Organisation.