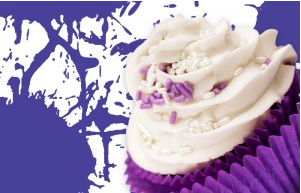 As we reported in a previous post, we had some fantastic Virtual Blog Parties during the launch weekend of our Paint It Purple campaign. Now we have more to share, as parties are being held throughout the month of October.
Mandy made some delicious-looking purple swirl cupcakes. http://msbuzzworthy.wordpress.com/2010/10/05/paint-it-purple/
Instead of cupcakes, Kathleen baked some cookies and packaged them with purple ribbons. Lovely! http://blog.kathleenmschmidt.com/2010/10/14/project-empowerment-supports-the-paint-it-purple-campaign-2010.aspx
And Diamond held her party through a series of posts, including one that talks about her personal experience with domestic violence. http://diamondcartel.blogspot.com/2010/10/welcome-to-my-pixel-project-paint-it.html
Thanks so much to everyone who took part. We may have a few more to report on in the near future, so stay tuned.