Welcome to The Pixel Project's "30 For 30″ Father's Day Campaign 2016! In honour of Father's Day, we created this campaign:
To acknowledge the vital role dads play in families, cultures and communities worldwide.
To showcase men from different walks of life who are fabulous positive non-violent and non-sexist male role models.
To provide dads worldwide a positive platform to share ideas about stopping sexism, misogyny, and violence against women and girls.
This is our 5th annual 30 For 30 campaign and through it we will be publishing a short interview with a different Dad on each day of the month of June.
Our thirteenth "30 For 30″ 2016 Dad is Dan Gough from the United Kingdom.
__________________________________________________________________________________________
The Dad Bio
I write songs and deliver music projects and live performances around Leeds with young people. My songs stand up to social injustices and embody values and messages that I believe truly matter in changing the world. They tackle issues such as violence, bullying, healthy living and promote diversity, respect and courage. My latest venture is called Class Dynamix and our recent project, Turn On The Lights, was centred around violence and safety at home. I love spending time with my girls, visiting my family who live in the Shropshire countryside several hours away – taking long walks up the canal and doing Park runs which are great fun.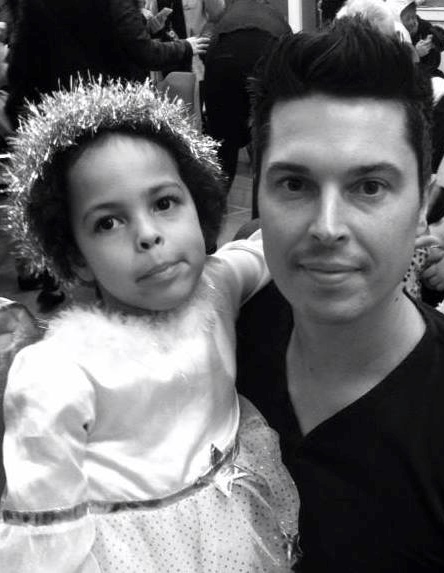 1. What is the best thing about being a dad?
I am the proud husband of my wife, Tabitha and proud dad to our 5 year old daughter, Serena. I am white British, my wife is black Kenyan and Serena is a beautiful curly-haired combination. She is our only child as we lost our son, Manu, in 2012 at birth which was devastating beyond description; but we are so grateful for our daughter – what a gift she is! Her joy is infectious and to nurture her is an incredible honour.
For me, being a dad is all about the privilege of watching my daughter's beautiful journey of growing and discovering herself – her character, her talents, her strengths, her weaknesses. To enter into her world, to see through her eyes the simple wonders that I often take for granted, and to see her get so excited about simple things like puddles, a flower, or a butterfly reminds me how precious everyday life is, and how stress or worries can rob us of those moments each day.
2. A dad is usually the first male role model in a person's life and fathers do have a significant impact on their sons' attitude towards women and girls. How has your father influenced the way you see and treat women and girls?
I am very lucky to have a dad who is honest, loyal and hard-working in every aspect of his life. He has always had a strong conscience and the honour to look after my mum and myself and brother growing up. He is someone that never lets you down – he is dependable and resilient and always goes the extra mile for the women in his life.
My dad has always put other people first, and respects my num as a person in her own right. He is gentle, kind and always seeks to do the right thing. The way he is caring for his own mum in old age is another beautiful sight to behold.
3. Communities and activists worldwide are starting to recognise that violence against women is not a "women's issue" but a human rights issue and that men play a role in stopping the violence. How do you think fathers and other male role models can help get young men and boys to take an interest in and step up to help prevent and stop violence against women?
Sadly, my wife grew up in a violent and abusive home, so I am very aware of the devastation and difficulties in later life domestic violence can put on individuals. Preventing children in their formative years from witnessing that when their mind and sense of self is being formed is something that I care deeply about.
For me, one way to stop violence against women is to show our young men what honour and respect looks like in action and to teach them to have the self-respect and love which will enable them to respect women and girls. We can show them the way of care, respect and nurturing by how we treat those around us, and we can speak out as citizens against violence and abuse that thrives in secrecy and shame.