Welcome to The Pixel Project's "30 For 30″ Father's Day Campaign 2015! In honour of Father's Day, we created this campaign:
To acknowledge the vital role Dads play in families, cultures and communities worldwide.
To showcase good men from different walks of life who are fabulous positive non-violent male role models.
Through this campaign, we will be publishing a short interview with a different Dad on each day of the month of June.
This campaign is also part of a programme of initiatives held throughout 2015 in support of the Celebrity Male Role Model Pixel Reveal campaign that is in benefit of the National Coalition Against Domestic Violence and The Pixel Project. Donate at just US$1 per pixel to reveal the mystery Celebrity Male Role Models and help raise US$1 million for the cause while raising awareness about the important role men and boys play in ending violence against women in their communities worldwide. Donations begin at just US$10 and you can donate via the Pixel Reveal website here or the Pixel Reveal Razoo donation page here.
Our third "30 For 30″ 2015 Dad is Leonard Storm Warren from the USA.
__________________________________________________________________________________________
The Dad Bio
I have a total of 5 children – 2 of which are adults now, a teenager who is 15, and 2 small children residing in the home with me. For years, I was a touring musical artist from 1998, till around 2012. When I had my last child (my son), I decided that it was time to become a totally dedicated father, and husband. Leaving the music life was one of the most difficult decisions that I'd ever had to make, but oh so worth it in terms of family value! I took up photography and videography. This allowed me to fill that void of needing to be an artist. To this day, my children and wife are very pleased with me, they look up to me more now than ever before, and I in turn, try to be the best father and husband that I can be!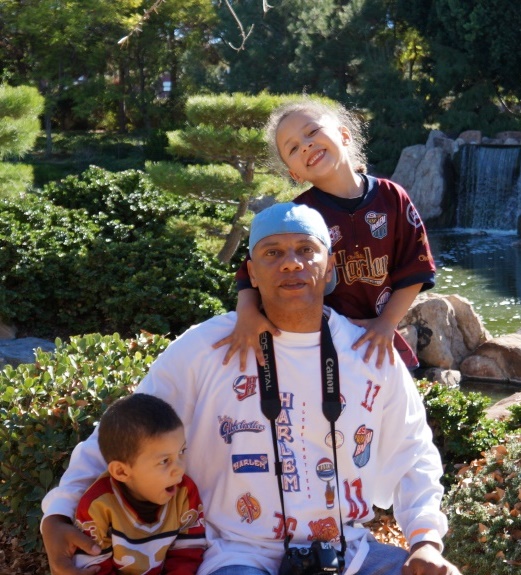 1. What is the best thing about being a dad?
The best thing about being a dad is how valuable I am to my children. They learn most of their first things with me and I get to experience so many first accomplishments with them too. As a Dad, I get to teach fundamentals that will assist my children as they learn to walk, then walk through life on their own, and they in turn pass these lessons down to their children too. When I hear my children calling me "Dad", when I see the love that they have for me in their eyes, I know that I am their hero, and that means more to me than ANY amount of fame or money that I could ever possess. I thank God that I am healthy, I am happy, and I am in love… with my children.
2. A dad is usually the first male role model in a person's life and fathers do have a significant impact on their sons' attitude towards women and girls. How has your father influenced the way you see and treat women and girls?
My father was pretty young when I was conceived. I remember him being there as much as he could. Mother and him were not married; they were just children themselves. I spent quite a few years with my father (away from mother). My dad was always a hardworking man. He always treated his woman like a queen. He had very low tolerance for playing around in school and disrespect at home. These are traits I adopted and passed on to my children as I began having a family.
The role never ends though, and as you get older, the situations change, like the times. The issues that a dad faces three years ago with this child, will be very different from the way a dad needs to deal with this same issue from his child this year. There is no manual to rearing a child. You gotta get in there and try to make the very best decisions for them – ones that will be fair, concise and intelligent.
3. Communities and activists worldwide are starting to recognise that violence against women is not a "women's issue" but a human rights issue and that men play a role in stopping the violence. How do you think fathers and other male role models can help get young men and boys to take an interest in and step up to help prevent and stop violence against women?
I believe fathers and older men can do this by showing young boys, young fathers, and young men that they don't have to play the role of being overtly "Hard". Society has bogged us down with the ideology that you must be HARD all the time.
I have heard so many people tell young people, to say 'please', or 'thank you', and the kids act like it is a really difficult thing to say. I mean really? And music, media, all things around us seem to have a campaign to glorify the Bad Boy image. I truly believe that these things are really hurting our young men too. We are conditioning our children that it is wrong to outward and compassionate emotion, and to me that is wrong.