Welcome to The Pixel Project's "30 For 30″ Father's Day Campaign 2013! In honour of Father's Day, we created this campaign:
To acknowledge the vital role Dads play in families, cultures and communities worldwide.
To showcase good men from different walks of life who are fabulous positive non-violent male role models.
Through this campaign, we will be publishing a short interview with a different Dad on each day of the month of June.
This campaign is also part of a programme of initiatives held throughout 2014 in support of the Celebrity Male Role Model Pixel Reveal campaign that is in benefit of the National Coalition Against Domestic Violence and The Pixel Project. Donate at just US$1 per pixel to reveal the mystery Celebrity Male Role Models and help raise US$1 million for the cause while raising awareness about the important role men and boys play in ending violence against women in their communities worldwide. Donations begin at just US$10 and you can donate via the Pixel Reveal website here or the Pixel Reveal Razoo donation page here.
Our thirteenth "30 For 30″ 2014 Dad is Daniel Blake from the USA.
__________________________________________________________________________________________
The Dad Bio
Daniel currently lives in California, having recently moved following his wife's retirement. He worked for Crown Zellerbach Corporation for 29 years, followed by 12 years with CityTeam Ministries. Daniel has been married to his wife and best friend for 45 years and, together they have one daughter, Carrie, and two grandchildren, Justice and Tredan.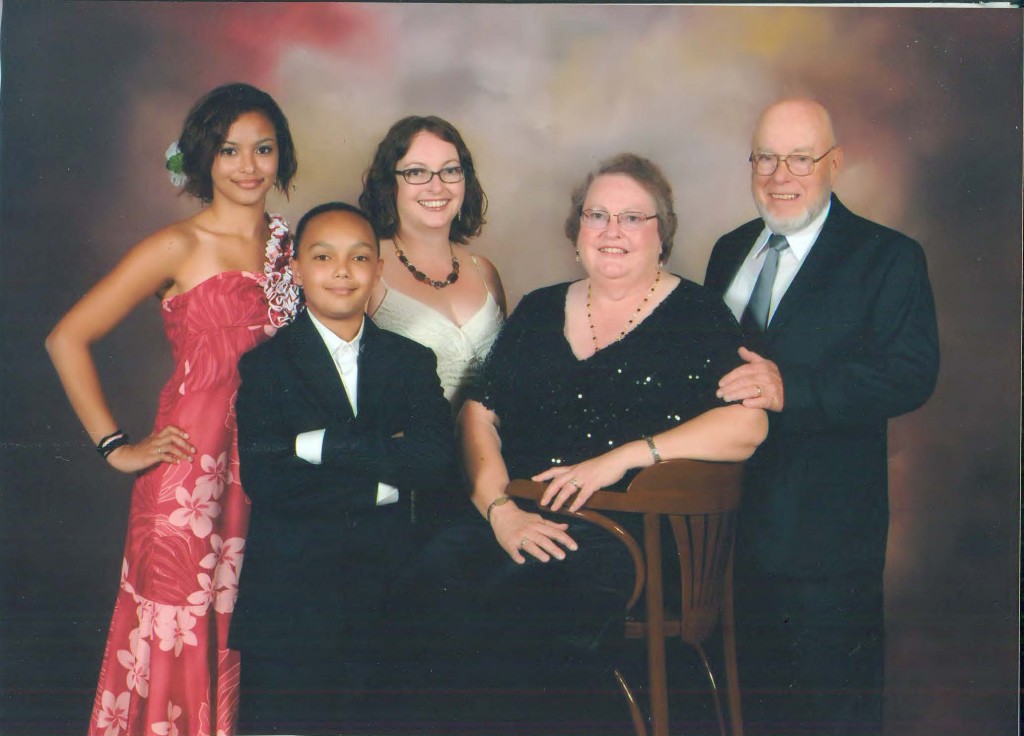 1. What is the best thing about being a dad?
The Lord has changed me over the years in my thoughts, attitudes, actions, and words towards my daughter and grandchildren. Although it has not always been easy, it has been very rewarding. I love spending time and interacting with them. I have come to appreciate and celebrate their diverse personalities, and I have learned to relax and enjoy my family.
2. A dad is usually the first male role model in a person's life and fathers do have a significant impact on their sons' attitude towards women and girls. How has your father influenced the way you see and treat women and girls?
My father's influence was both negative and positive. He wasn't the most sensitive and caring husband or father and he held the belief that women were subservient, which I carried into my marriage and fathering style. I was lucky because I had other influences. My next door neighbour for many years spoke often of the high value that Jesus placed on women, and my uncle showed the value of womanhood in how he treated his wife with love and respect.
3. Communities and activists worldwide are starting to recognise that violence against women is not a "women's issue" but a human rights issue and that men play a role in stopping the violence. How do you think fathers and other male role models can help get young men and boys to take an interest in and step up to help prevent and stop violence against women?
By reading and attending seminars, I was able to change my perspective and treatment in both attitude and actions in regards to my sensitivity and responses towards women. Now I show through my interactions with my wife, daughter, and granddaughter that I value them as women, showing them respect and honour. Men must step up to the plate and be models in their actions and words. Fathers need to "walk the walk" before their sons and daughters. It is important to affirm our convictions when called upon to do so publicly.