Welcome to The Pixel Project's "30 For 30″ Father's Day Campaign 2013! In honour of Father's Day, we created this campaign:
To acknowledge the vital role Dads play in families, cultures and communities worldwide.
To showcase good men from different walks of life who are fabulous positive non-violent male role models.
Through this campaign, we will be publishing a short interview with a different Dad on each day of the month of June.
Our eighteenth "30 For 30″ 2013 Dad is Vivek Krishnamurthy from Canada.
————————————————————————————-
The Dad Bio
Our nineteenth Dad is Vivek Krishnamurthy is a Canadian citizen and a lawyer currently based in Washington DC specializing in international human rights issues. He is a graduate of the University of Toronto, the University of Oxford, and Yale Law School. He is The Pixel Project's Assistant Secretary and a proud, new father!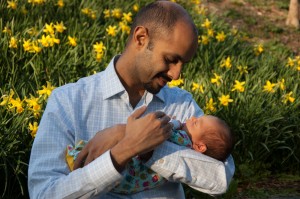 1. What is the best thing about being a dad?
It is hard to single out a single best thing about being a dad, but if I only get to choose one thing, it's being able to help shape the course of a new life by being my child's first guide in this exciting new world!
2. A dad is usually the first male role model in a person's life and fathers do have a significant impact on their sons' attitude towards women and girls. How has your father influenced the way you see and treat women and girls?
My dad is very unusual for someone of his age, culture, and, background, in that he has always viewed my mother as his equal in every aspect of their marriage. Not that many men of his generation would cheerfully cook, clean, and even spend some time as a stay-at-home dad. I have inherited his belief in gender equality and aspire to the model set by my parents in my own marriage.
3. Communities and activists worldwide are starting to recognise that violence against women is not a "women's issue" but a human rights issue and that men play a role in stopping the violence. How do you think fathers and other male role models can help get young men and boys to take an interest in and step up to help prevent and stop violence against women?
First and foremost, every father can teach their sons to love, respect, and cherish all of the women in their lives, from their mothers to their sisters to (eventually) their wives and their daughters too. By so doing, I think we can make violence against women history within a generation.
______________________________________________________________________________________
Want to honour your Dad in a different way this Father's Day without breaking the bank?
We offer two (2) easy and fabulous options:
Option A: Make a Small Donation
Help The Pixel Project keep our anti-Violence Against Women campaigns and projects sustainable by making a small donation on behalf of your dad to us.
Click here to learn how your donation will be used and to donate:https://www.thepixelproject.net/getting-involved-an-introduction/donate-to-the-pixel-project/
Option B: Dedicate a Song to Him
For just $0.99, you can download our first Music For Pixels song – a cover of 'The Rose' by AHMIR, YouTube's #1 R&B group and upload it onto your Dad's computer's iTunes or digital music player. Not sure about it? Listen before you buy: