Welcome to The Pixel Project's "30 For 30″ Father's Day Campaign 2013! In honour of Father's Day, we created this campaign:
To acknowledge the vital role Dads play in families, cultures and communities worldwide.
To showcase good men from different walks of life who are fabulous positive non-violent male role models.
Through this campaign, we will be publishing a short interview with a different Dad on each day of the month of June.
Our fifth "30 For 30″ 2013 Dad is Alvin R Singh, currently based in South Africa by way of the USA.
———————————————————–
The Dad Bio
Alvin Singh is founder of the ARS Media Group, and serves as Strategic Communication Advisor to the African Union Diaspora Forum. He is also editor of Unchain Africa Press, a Tennessee Tribune columnist, media strategist and documentary producer. He has worked with non profit organisations, media companies, a Fortune 500 and small businesses. Since 2007 he has interviewed vice president of Nike Howard White, Malawi President Joyce Banda, music legends Pete Seeger, Arlo Guthrie, Odetta, Harry Belafonte as well as numerous intellectuals and foreign diplomats. He was appointed historical curator of the Lead Belly Archives, providing memorabilia for exhibits at the Grammy Museum, Rock & Roll Hall of Fame and Library of Congress.
Born in the United States, Singh received a B.A. in political science from Hampton University and a Masters in Communication in Digital Media at the University of Washington. He is married to a beautiful South African and father of a French speaking, Taylor Swift singing 4 year old named Johari!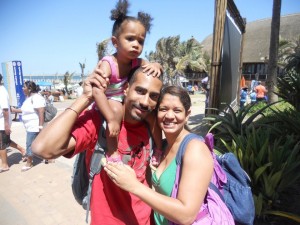 1. What is the best thing about being a dad?
Hearing my daughter laugh and asking me to help her. I enjoy the quality time of being present with my child and learning how she sees the world as such a young age. I look forward to a long friendship that never gets old or mundane.
2. A dad is usually the first male role model in a person's life and fathers do have a significant impact on their sons' attitude towards women and girls. How has your father influenced the way you see and treat women and girls?
My father taught me how to earn respect from compassion and helping others. He lived by example of being a dedicated father and provider to his family. Recently my father and I traveled to Trinidad so that he could meet his brothers and sisters for the first time. We both enjoyed the company and had a great time on such a energetic island. Growing up he taught me to be a gentleman towards my sisters and other women.
3. Communities and activists worldwide are starting to recognise that violence against women is not a "women's issue" but a human rights issue and that men play a role in stopping the violence. How do you think fathers and other male role models can help get young men and boys to take an interest in and step up to help prevent and stop violence against women?
Being a father also means being responsible to my community. It requires me to lead by example and to voice my opinion on violence against women. It's a human tragedy to label it as just a "women's issue" rather than address it and combat its perpetrators. I want to teach my daughter how to defend herself and to have situational awareness when its comes to being in places that are dangerous. She should choose her relationships wisely and help others she sees attacked. As a parent my duty is to provide her with lessons and the experiences that could save her life.
————————————————————————
Want to honour your Dad in a different way this Father's Day without breaking the bank?
We offer two (2) easy and fabulous options:
Option A: Make a Small Donation
Help The Pixel Project keep our anti-Violence Against Women campaigns and projects sustainable by making a small donation on behalf of your dad to us.
Click here to learn how your donation will be used and to donate: https://www.thepixelproject.net/getting-involved-an-introduction/donate-to-the-pixel-project/

Option B: Dedicate a Song to Him
For just $0.99, you can download our first Music For Pixels song – a cover of 'The Rose' by AHMIR, YouTube's #1 R&B group and upload it onto your Dad's computer's iTunes or digital music player. Not sure about it? Listen before you buy: