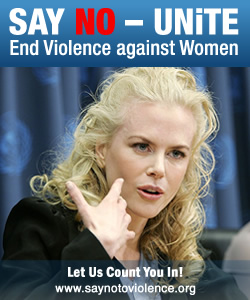 The United Nations Development Fund for Women (UNIFEM) has invited The Pixel Project (https://www.thepixelproject.net), a global Web 2.0-driven fund and awareness raising project, to be a launch partner in their global advocacy initiative 'Say NO – UNiTE to End Violence against Women.'
Violence against women is a major public health and human rights problem throughout the world. It is estimated that 1 in 3 women will experience gender-based violence in her lifetime.[i]
'Say NO – UNiTE' is a global call for action to end this pandemic. The multi-year initiative will contribute towards ending violence against women and girls through advocacy and outreach as well as spotlighting global efforts and demonstrating the groundswell of support and activism on the issue.
The initial campaign target is to reach 100,000 'actions' by March 2010 and 1 million actions in one year. Actions to be showcased and counted can range from reaching out to students at schools, to volunteering at local shelters, advocating for legislation or donating funds towards programmes that protect women and girls from violence.
Urjasi Rudra, Coordinator of 'Say NO – UNiTE' said: "'Say NO – UNiTE' is a global platform to support advocacy and awareness raising efforts towards ending violence against women. On an interactive web platform (http://www.saynotoviolence.org) individual activists, organizations and government partners can build their own web pages to highlight their initiatives. This way, they can reach national/local audiences and spread the word around the world – linking local and global advocacy on the issue. We are pleased that The Pixel Project has joined 'Say NO – UNiTE' to showcase their innovative initiative that raises much needed resources for organisations on the ground".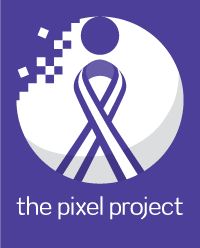 The Pixel Project will play an important role in supporting 'Say NO – UNiTE' in reaching its 'action' target whilst also generating publicity and interest in the initiative. The campaign aims to raise US$1 milllion in 2010 by selling a world-exclusive million-pixel photograph of a group of global Celebrity Male Role Models online for US$1 per pixel, while using the power of the Internet to drive viral word-by-mouth awareness-raising. Each pixel sold will count as one 'action' in the 'Say NO – UNiTE' campaign.
The funds raised will be shared equally between Malaysia's Women's Aid Organisation (http://www.wao.org.my) and the USA's National Coalition Against Domestic Violence (http://www.ncadv.org) to help them stay open and keep their advocacy, education and safety programmes and services for women facing gender-based violence running through the ongoing global recession.
The sale of pixels is just one of several initiatives under The Pixel Project which will help generate the actions UNIFEM is collecting. The Pixel Project and 'Say NO – UNiTE' will also engage in a number of cross-promotional projects to lead both campaigns to success.
Regina Yau, The Pixel Project's Founder and President, said: "Galvanising global grassroots action to stop violence against women is one of The Pixel Project's goals. Therefore we are delighted to be a launch partner for UNIFEM's 'Say NO – UNiTE' campaign. We look forward to working together to prevent, stop and end violence against women on a worldwide scale."
For further information, please contact the Bright One account team for The Pixel Project:
Laura Vergani (Strategic Consultant) – laura.vergani@brightone.org.uk / 07870 60 7521
Emily Mathewson (Account Manager) – emily.mathewson@brightone.org.uk / 07730 410 444
Katy Thompson (Senior Account Executive) – katy.thompson@brightone.org.uk / 07530216273
Group Email – pixelproject@brightone.org.uk
---
Sources:
[i] 'Facts & Figures on VAW – United Nations Development Fund for Women http://www.unifem.org/gender_issues/violence_against_women/facts_figures.php